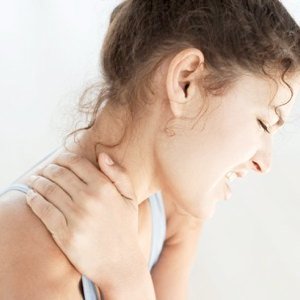 Fibromyalgia is a chronic pain disease of unknown origin.  People with this disorder have often been misdiagnosed in the past for suffering from depression.  Although psychological distress is often the cause of their pain, Fibromyalgia is not a psychiatric illness.  Only recently have people, after having this disease for over 5 years, being accurately diagnosed with it.
Fibromyalgia is a progressive illness that, in its early stages, appears for only a few days at a time, and is usually worse in the morning, easing up somewhat in the early afternoon.
Symptoms
Terrible pain in the muscles, ligaments, tendons and facial connective tissue
Pain is burning, stabbing or throbbing and is accompanied by extreme fatigue
Have difficulty falling asleep, as well as having a problem     staying asleep – causing exhaustion
Severe joint pain, sometimes accompanied by swelling,     redness and heat
Rigor Mortis – feeling like turning into marble
Achy, flu-like symptoms, Nasal Congestion & Post nasal  drip
Frequent Urination, accompanied by burning and  pungent odour
Vulvar pain & painful intercourse
Hair loss, brittal and peeling nails and skin become very  sensitive to touch, mottled skin
Blurred vision & Dry eyes
Heart Palpitations
Feeling of numbness or tingling in arms, legs, hands, feet
Heightened sensitivity to lights, odours and sounds
Metallic taste & sugar cravings
Dental tartar accumulate on teeth and break off
Anxiety, digestive disturbances, IBS, lack of energy, lowered pain threshold, weight gain
Pain is most severe in lower back, hips, neck & shoulders     and is accompanied by muscle twitching, with increased     sensitivity to heat or cold and any changes in weather.
Pain does not go away while resting and it may even     worsen when on move.
Alternative Treatment
Symptoms can be alleviated with one or more of these alternative therapies, remedies and supplements.
Aerobic Exercises:  Biking, jogging, swimming and walking raise level of endorphins, body's natural pain reliever, and increase serotonin levels.
Aromatherapy:  Essential Oils like Chamomile, Ginger, Lavender, Marjoram and Rosemary relief pain, but should be applied cautiously, preferably by an expert.
Reflexology:  It removes toxins from the body and increase homeostasis.
Osteopathic Massage:  Deep tissue massage that increases mobility and reliefs muscle spasms and tightness, providing instant pain relief.
Diet:  Food, i.e. Brown Rice,   Buckwheat, Chickpeas, Green Vegetables, Kidney Beans, Lentils, Millet, Nuts, Seeds,
contains Magnesium, which have a calming effect and help relax muscles.  It also aids in removing toxins from the body.
Herbal Remedies:  Devil's Claw reduces inflammation and aids in removing toxins from the body, whereas St. John's Wort increases serotonin levels.
Homeopathic Remedies:  A wide variety of remedies is available for bruised and overworked muscles, pain, stiffness and headaches, but should be prescribed and evaluated by a registered Homeopath.
Supplements: Magnesium aids in relaxation and helps reduce joint sensitivity, Melatonin helps regulate sleep patterns, Coenzyme Q10 speeds up metabolism and increases serotonin levels.
Researched by :Erika Myburgh
THERAPEUTIC REFLEXOLOGIST
Bayview Centre, Mossel Bay
083 654 9292 •